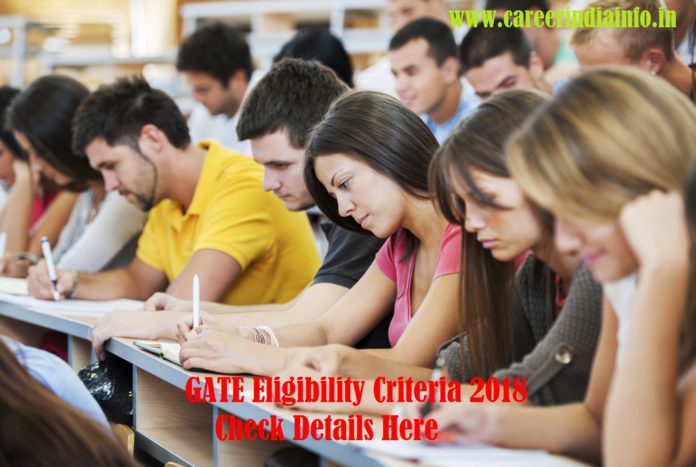 GATE Eligibility Criteria 2020: All the aspirants are suggested to check eligibility criteria before making the GATE 2020 online application form. Candidates can download the official notification from the website concerned to check eligibility details. Those who found themselves eligible after checking eligibility requirements should fill GATE 2020 application form before the due date. Candidates found ineligible later, his/her candidature will be cancelled. GATE 2020 exam will be held on 1st, 2nd, 8th & 9th February 2020. Interested candidates can submit their application form from 3rd September 2019 onward till 24th September 2019.  Check the GATE eligibility criteria 2020 in detail here in this article.
Update: The IIT, Delhi will conduct GATE 2020 exam on 1st, 2nd, 8th & 9th February 2020 on various centres throughout the country. The registration process will commence from 3rd September 2019 and it will close on 24th September 2019. The applicants must submit the application form within the prescribed time limit. We recommend the applicants to go through the official information bulletin for detailed information.
GATE 2020 Important Dates
One who is meeting the above-mentioned eligibility requirements should go ahead as per the following schedule. The dates mentioned below are official and candidates can start their preparation according to the dates given. Check information in respect of GATE 2020 below:
| | |
| --- | --- |
| GATE 2020 Exam Events | Dates (Official) |
| Availability of GATE 2020 online application  form | 3rd September 2019 |
| Last date for submitting the application form | 24th September 2019 |
| Extended last date for submission of application form | 1st October 2019 |
| Due date for request of changing the exam city | 15th November 2019 |
| Availability of Admit card | 3rd January 2020 |
| GATE 2020 entrance exam date | 1st, 2nd, 8th & 9th February 2020 |
| Result announcement | 16th March 2020 |
| Score card release date | March 2020 |
GATE Eligibility Criteria 2020
The candidate should fulfill the eligibility condition to appear in the GATE 2020 exam. The course-wise GATE eligibility criteria 2020 are as under:
Qualification
Qualifying degree/ Exam
Degree status
Year of Qualification should not be later than
B.E/B. Pharm/

B. Tech

Must hold a graduation degree in Eng./ Technology (4 year after 12th or 3 years after B.Sc./ Diploma in Technology /Engg.)

One who are in the last year of qualifying exam can also apply.

Passed or appearing in final year of qualifying degree.
2020
Int. M. Sc./ Int. B.S-M.S
Candidate should have done Integrated M.Sc. or 5 year integrated BS/MS program
 Do
2020
B.Sc. (Research)/ B.S.
Candidates must hold graduation degree in Science (Post-Diploma /4 years after 12th)
Passed or appearing in final year.
2020
B. Arch.
Candidate should possess a graduation degree in Architecture (5  years course)
 Do
2020
M. Sc./ MCA / M.A or equivalent
Candidate should have Master's degree in any branch of Mathematics/ Science / Computer Applications/ Statistics/ or equivalent
 Do
2020
Int. M.E./ M. Tech. or Dual Degree

(after Diploma or 10+2)

Integrated Master's degree program or Dual Degree program in Technology/ Eng.  (5 year program)
Completed or appearing in  4th/5th year.
2021
Int. M.E/ M. Tech (Post-B.Sc.)
Must hold  a Post-BSc Integrated Master's degree programs in Eng. /Technology (Four year program)
Completed or appearing in the 2nd / 3rd /4th year
2022
Professional Society Exam

(equivalent to B.E./B. Tech./ B. Arch)

Must possess certificate of B.E/B.Tech /B.Arch equivalent exam of Professional Societies, recognized by UPSC / MHRD /AICTE
Completed section A or equivalent of such professional Programmes
NA
GATE Eligibility Criteria 2020: Main Highlights
There is no age limit for appearing in the GATE 2020 exam. Candidate can appear any number of times as the number of attempts are not fixed.
Applicants from the foreign country including Bangladesh, Sri Lanka, Nepal, Ethiopia, Singapore and the United Arab Emirates must have completed or appearing in final year in Bachelor degree in Engineering/Technology or PG(M.Sc.) degree in any concerned science subject.
Candidate should upload the eligibility criteria certificate with the application form at the official website and the documents are not required to send through the post.
Mark sheet obtained through the Internet shall not be accepted.
A candidate can appear in only one GATE paper. If someone makes multiple applications for the same paper, he/she shall be allowed to appear in the paper in one session only.
The duplicate/triplicate application will be considered as one paper only and the authority will not refund the application fees.
Qualifying Disciplines for Eligibility Degrees
| | |
| --- | --- |
| Discipline: Engineering/Technology | Discipline: Science |
| Aeronautical/Aerospace Engineering | Agricultural Science |
| Chemical Engineering | Engineering Physics |
| Applied Mechanics | Applied Physics |
| Architecture | Biochemistry |
| Automobile Engineering | Bio-Sciences |
| Biochemical Engineering | Chemistry |
| Information Science/Information Technology/Information and Communication Technology | Pharmaceutical Sciences/Pharmacy |
| Biotechnology | Earth Sciences |
| Ceramic & Glass Technology | Electronics |
| Biomedical Engineering | Computer Applications |
| Chemical Technology | Geology/ Geophysics |
| Energy Engineering | Mathematics/Applied Mathematics |
| Computer Engg.,/Computer Science & Engg./Technology | Life Science/Veterinary/Animal Science |
| Electronics & Comm./Electronics Engg./Comm. Engg. /Telecommunication Engg. | Materials Science |
| Control and Instrumentation | Life Sciences |
| Electrical Engg./ Electrical and Electronics Engg./Power Engineering | Life Sciences (Botany) |
| Agricultural Engg. | Applied Electronics |
| Civil/Civil & Environmental/Structural Engg./ Construction Engineering | Industrial Chemistry |
| Industrial Management | Operations Research |
| Environmental Engineering | Microbiology |
| Food Technology/Food Processing Engg. | Nano Science & Technology |
| Industrial Engineering | Nuclear Physics |
| Electro-Chemical Engineering | Life Sciences (Zoology) |
| Material Science and Engineering | Statistics |
| Instrumentation/ Electronics/Control | Physics |
| Instrumentation & Process Control | Radio Physics |
| Manufacturing Engineering | Radio Physics & Electronics |
| Mechanical Engineering | Textile Chemistry |
| Mechatronics | All other disciplines in Sciences |
Official Website: http://gate.iitd.ac.in/
Stay connected with us for more information on GATE Eligibility Criteria 2020